Union Sq. retail condo sold for $11.5M, will be marketed as restaurant space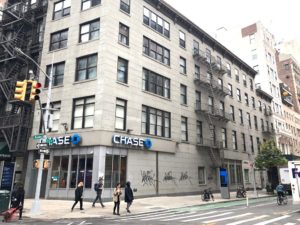 Yaron Jacobi's Premier Equities has acquired a Union Square retail condo for $11.5 million from seller Kenart Realties. The space is located at 835 Broadway on the southwest corner of Broadway and 13th Street and is home to a Chase Bank. The ground floor has 2,568 s/f, the basement has 2,162 s/f and 62 East 13th Street is the inline space. Previously it was occupied by Jeniette Spa but is primed for a restaurant/bar as there is already a vent stack that runs to the roof of the building. The ground floor has 2,100 s/f and the basement is 2,200 s/f.
Marshall Real Estate, LLC) represented both sides of the transaction. Kenart had owned the space for over 30 years. Premier plans to have the inline space l undergo construction immediately to make it attractive to restaurant/food/fast casual eateries. The corner space is leased to Chase until 2022 and they have a FMV purchase option. There rent is below market and will trigger a big uptick in gross rent.
Comments are closed.