The Real Deal – 184 Kent Street
Rockpoint Group and Kushner Companies sold a 16,000-square-foot retail condo and 55,000 square feet of parking garage space at 184 Kent Avenue in Williamsburg for $11.7 million total. A joint venture between Regal Acquisitions and the limited liability company Jackson Group was the buyer. Rockpoint and Kushner provided the seller with financing. Matthew Marshall of Marshall Real Estate brokered the transaction.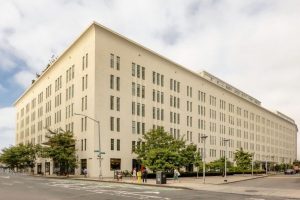 Kushner, Rockpoint sell Brooklyn retail condo for $12M
Rockpoint Group and Kushner Companies have sold the retail condominium at 184 Kent Avenue in Williamsburg, Brooklyn, for $11.7 million.
Matthew J. Marshall of Marshall Real Estate represented the sellers and the buyers, a joint venture between Regal Acquisitions and The Jackson Group, LLC.  According to Marshal, a key component to the deal was that Rockpoint and Kushner provided seller financing for the deal.
The retail space is comprised of six different storefronts across 16,000 s/f occupied by Soul Cycle, La Nonna Restaurant, NYC Pets, Brightside Coffee and Pure Cleaners. One 4,500 s/f space was delivered vacant. The deal includes the garage condo, which comprised 55,000 s/f over three levels.
"The buyers plan to work with the tenants through their COVID rent abatements to support them and hopefully get them back into their full contract rent," said Marshall, noting that the most pivotal space is the prime corner that Soul Cycle occupies.
"There is huge upside in the corner either to do a workout for Soul Cycle to leave, or get them back open and paying a contract rent with an arrears schedule."
The garage space was delivered unencumbered and the buyer is looking to secure an operating agreement with a garage operator or a more traditional long-term lease with a garage operator.
The retail sits at the base of 184 Kent Avenue, a 350,000 s/f condominium property developed by Rockpoint and Kushner known as the Austin Nichols House.  The building contains 387 residential units which are almost completely sold out.
TradedNY – 150 Myrtle Avenue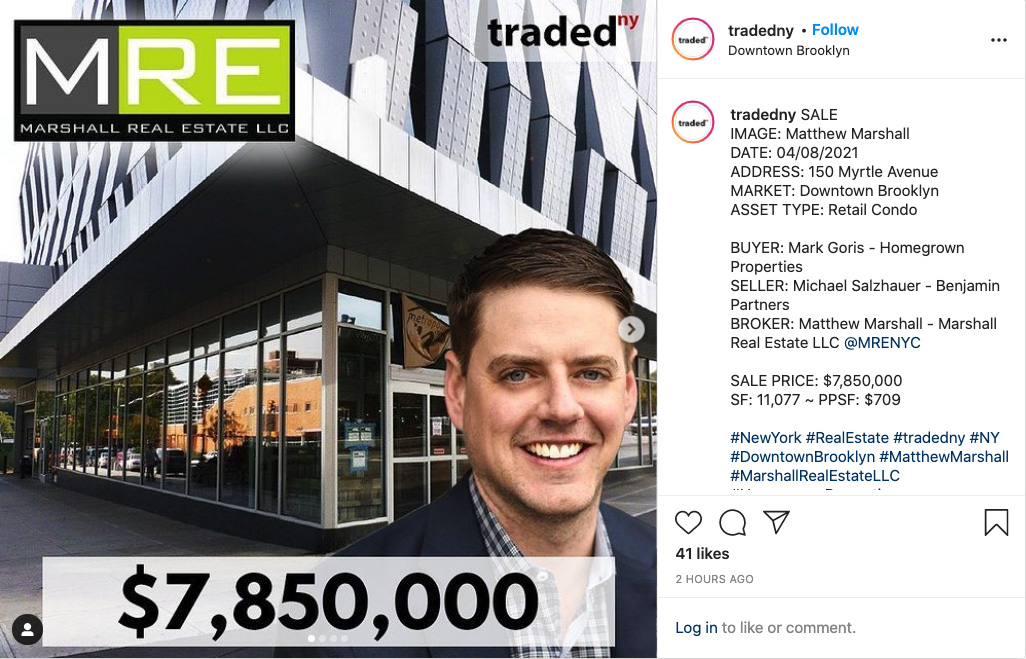 Real Estate Weekly – 150 Myrtle Avenue
Marshall Real Estate announced the sale of a retail condominium located at 150 Myrtle Avenue, Brooklyn. The 11,077 s/f unit is fully occupied by Fresh Market Grocery until 2025 with a 5-Year option to extend. The space has an all-glass façade, 18 ft. ceilings and over 350 ft. of wrap-around frontage. It closed at full $7,850,000 asking price at a Cap Rate of 6.25%. Matt Marshall represented both the seller, Benjamin Partners, and the purchaser, a private investor.
Real Estate Weekly – 333 Rector Place
Matthew Marshall of Marshall Real Estate, LLC, announced the sale of the retail condominium located at 333 Rector Place for $4,600,000. The property was sold by Cohen Equities and purchased by Ascot Properties NYC. The 5,460 s/f ground floor condo is currenlty occupied by a day care with a lease expiration in Fall of 2021. New ownership will either renew the daycare at a new rent or break the space up into smaller spaces to achieve greater replacement rents.
Union Sq. retail condo sold for $11.5M, will be marketed as restaurant space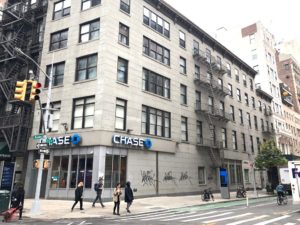 Yaron Jacobi's Premier Equities has acquired a Union Square retail condo for $11.5 million from seller Kenart Realties. The space is located at 835 Broadway on the southwest corner of Broadway and 13th Street and is home to a Chase Bank. The ground floor has 2,568 s/f, the basement has 2,162 s/f and 62 East 13th Street is the inline space. Previously it was occupied by Jeniette Spa but is primed for a restaurant/bar as there is already a vent stack that runs to the roof of the building. The ground floor has 2,100 s/f and the basement is 2,200 s/f.
Marshall Real Estate, LLC) represented both sides of the transaction. Kenart had owned the space for over 30 years. Premier plans to have the inline space l undergo construction immediately to make it attractive to restaurant/food/fast casual eateries. The corner space is leased to Chase until 2022 and they have a FMV purchase option. There rent is below market and will trigger a big uptick in gross rent.
835 Broadway – SOLD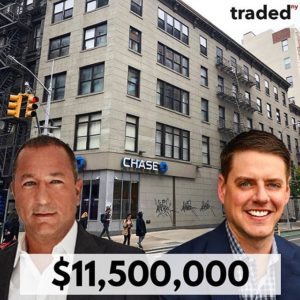 SALE
IMAGE: Yaron Jacobi (@Y_Jacobi) & Matt Marshall (@MRENYC)
DATE: 11/21/2019
ADDRESS: 835 Broadway
MARKET: Union Square
ASSET TYPE: Retail Condo
SALE PRICE: $11,500,000
SF: 9,030 SF (Ground – 4,668 SF, Lower – 4,362)
PPSF: $2,463
SELLER: Kenneth Kahn
BUYER: Yaron Jacobi @PremierEquities & Jenel
BROKERS: Matthew Marshall @MRENYC
#YaronJacobi #MatthewMarshall #NYC #NewYork #UnionSquare #KennethKahn #PremierEquities #Jenel #MarshallRealEstate #TradedNY
Closing Announcement: 2082 Frederick Douglass Blvd – Retail Condo
Klosed Properties is proud to announce the acquisition of the retail condominium at 2082 Frederick Douglass Blvd, New York, NY. The property is a 860 SF Retail Condo, located in West Harlem. The property is long-term leased to 87 Orange Street Bar & Restaurant.
Steven Kachanian, Principal said: "Even when most investors are running away from retail assets, we capitalize on opportunities as long as they are properly priced, well located, and have future upside potential. We finalized this acquisition within hours from our first inspection."
Jacob Namdar, Senior Director of Acquisitions said: "Given the downturn of the retail market, we were still able to secure a long-term lease with a strong operator. This West Harlem location is only getting better."

Adam Hajibai, Director of Acquisitions added: "We have been primarily focusing on acquisitions in Harlem, the Bronx, and Brooklyn. We are very excited for 2019, and looking to expand our portfolio heavily."
This marks our 1st acquisition in 2019, while we are currently under hard contract to purchase 7 additional properties.
Please reach us to discuss new opportunities:
Jacob Namdar – JN@Klosedllc.com or 646.688.3666
Adam Hajibai – AH@Klosedllc.com or 516.858.0024 

Please see our updated acquisition criteria below:

We are aggressively looking to acquire value-add properties in the boroughs & NY-Metro area. Our focus is on vacant/occupied retail condos, mixed use, and multifamily buildings (up to 200 units per asset), in NYC, Brooklyn, Bronx, & Queens.

NYC & Boroughs: 
Mixed Use Buildings, Multifamily (up to 200 units), Retail Condominiums, 
Retail Co-ops, Office Buildings, Strip Centers, Shopping Centers, NNN, & Residential Conversions. Looking for properties with upside and value-addpotential.

East Coast & Midwest:
Freestanding NNN & Grocery-Anchored Shopping Centers with value-add potential. Tenants desired: fast-food, drug stores, dollar stores, supermarkets, and all banks. Our core focus is on properties, where tenants are paying below-market rents and have short-term leases. 

Current Budget is $1M – $100M


Midwood picks up a pair of Chelsea buildings for $23M
Seller Renatus Group bought mixed-use properties last year for $10.5M
John Usdan's Midwood Investment and Development picked up a pair of mixed-use Chelsea buildings for $23.4 million.
The Park Avenue-based firm bought the properties at 152 and 154 Seventh Avenue at the corner of 19th Street from the Renatus Group, property records filed with the city Friday show.
Representatives for Rantus did not respond to a request for comment, and a spokesperson for Midwood declined to comment.
Renatus bought the properties for $10.5 million last year from longtime owner Michael Connolly.
Broker Matthew Marshall of Marshall Real Estate, who represented Renatus in the sale, said the investor made a number of improvements to the properties, including gut renovating a number of apartments and converting them from rent-stabilized to market rate.
Renatus renewed retail tenant Peter McManus – one of the oldest family owned bars in the city – to a 10 year lease and re-tenanted two other retail spaces. The properties come with about 14,000 square feet of air rights, which he said Midwood could monetize down the line if they choose to redevelop the properties in the future.
"Midwood's purchased what's basically a stabilized asset that has the future potential for possible development down the road," he said.
Brooklyn investor Joseph Brunner, who had been rumored to be connected to Renatus, appears as the signatory for the seller in property records.
Article posted: https://therealdeal.com/2017/10/13/midwood-picks-up-chelsea-buildings-for-23m/
Longtime Bowery landlord sells three buildings for $24M
Buyer Ari Zagdanski's Kinsman Property Group has no immediate dev plans
By Rich Bockmann | June 13, 2017 01:20PM
The family of Bowery landlord David A. Cohen sold a trio of properties in Nolita to investor Ari Zagdanski for $23.5 million, sources involved in the transaction told The Real Deal.
The low-lying buildings are home to the kinds of lighting-supply stores that have long characterized the gritty strip, and though the properties come with air rights, Zagdanski said he has no immediate plans to develop the property.
Cohen's adult children oversaw the all-cash sale of 162-166 Bowery, which have about 75 feet of frontage along the thoroughfare.
"They live down in Florida and the plan was to sell this," said Matthew Marshall of the brokerage Marshall Real Estate, which brokered the deal. "They already identified something to buy down in Florida closer to home."
The Cohens, who owned the buildings since the 1970s, have passive interests in other properties in the neighborhood, but Marshall said those would be longer-term holds for the family.
"This is pretty much the only thing left they own where there's a controlling interest," he said.
The three properties have two retail units and 11 residential apartments spanning 23,379 square feet, with another 21,249 square feet worth of air rights.
The site had previously been in contract with a different broker as a mixed-use development site asking $30 million, but that deal fell apart. Zagdanski told TRD that he has no plans to redevelop the property, but has his eye on the retail spaces, where leases are expiring in the mid-term.
This is the second purchase in New York City for Zagdanski's firm, Kinsmen Property Group. The company bought the 122-unit Icon rental building at 306 West 48th Street in 2012. He comes from a construction and development family with properties in Toronto and Ontario and is branching out in the city.
"This is now our second acquisition and we're looking to grow our portfolio in New York," he said.
Alex Heydt of Town Residential was involved in the deal on the buyer's side.
The properties sit a block north from the site at 134-142 Bowery that John Young's Emmut Properties bought for $47 million in 2015 with plans to develop a 62-unit apartment-hotel with retail on the ground floor.
Article from: https://therealdeal.com/2017/06/13/longtime-bowery-landlord-sells-three-buildings-for-24m/
RKF Arranges $10M Sale of Downtown Manhattan Retail Space
by Laura Calugar
The firm represented Premier Equities in the sale of the 1,400-square-foot retail space at 682 Broadway in the NoHo historic district.
New York—RKF, an independent real estate firm specializing in retail leasing, investment sales and consulting services, recently announced that it has closed the sale of a 1,400-square-foot prime retail space at 682 Broadway in NoHo for $10 million. RKF represented the owner, Manhattan-based Premier Equities, while Marshall Real Estate represented the buyer, Ascot Properties LLC.
Situated on the southeast corner of Great Jones Street and Broadway in NoHo, the building is in close proximity to NYU and benefits from a high volume of pedestrian traffic. The corner retail space includes 1,000 square feet on the ground floor, 400 square feet in the basement and 50 feet of frontage. The space is leased to health and wellness retailer GNC for 10 years. GNC has been at this location for the past two decades. According to RKF, GNC currently pays an annual rent of $475,000 for this space.
"This is one of NoHo's busiest corners, just steps away from iconic thoroughfares Bond Street, Washington Square Park and SoHo. This sale shows the strength and continued demand for income-producing retail in downtown Manhattan," said Brian Segall, RKF's vice president, in a prepared statement.
RKF has recently arranged various investment sales in Manhattan, including a 2,354-square-foot retail condominium at 42 Hudson St., in Tribeca, a $4.9 million sale of a 2,800-square-foot building at 28 East 13th St., in Union Square, and the $2.2 million sale of a 4,535-square-foot retail condo at 1810 Third Ave., on the Upper East Side. The firm also arranged a lease with Time Warner Cable to open its second "Experience Store" in Manhattan last March.
RKF is currently marketing the sale of an 8,439-square-foot retail condominium at 347 Bowery and an 8,752-square-foot new-construction retail condominium at 882 Fulton St., in Brooklyn.
Image via Google Street View
Ascot Properties NYC Betting on Soho With Two Commercial Condo Buys Within As Many Weeks
BY Lauren Elkies Schram
Lucky Bhalla's Ascot Properties NYC is bullish on Soho as the company scooped up two commercial condominium units in the neighborhood, one for $38.5 million and the other for $8.5 million, in a period of less than two weeks, Michael Brown, the vice president of Ascot, told Commercial Observer.
Last Thursday, the company purchased a 6,050-square-foot co-op at 138 Greene Street for $38.5 million from Thor Equities and Premier Equities, Mr. Brown said. Matthew Marshall from Marshall Real Estate negotiated the deal.
"We believe that this is an unparalleled asset" said Mr. Bhalla in a prepared statement. "Thirty feet of frontage on Soho's best street provides a retailer or brand with unparalleled exposure and the full selling basement allows for a true flagship location."
High-end Italian furniture store B&B Italia is leasing the space until the end of August.
The Real Deal reported in January when the deal was in contract for more than double what the sellers paid for it in mid-2014. Thor didn't immediately respond to CO's request for comment via a spokesman.
In the second deal, the family-run Valroge Corporation carved out a 2,900-square-foot commercial condominium unit on the ground floor and basement at 414 West Broadwaybetween Prince and Spring Streets for Ascot, holding onto the upper residential portion of the building for itself, Mr. Brown said. Ascot paid $8.5 million for it on March 8. Antique store Paracelso is in the space on a month-to-month basis, Mr. Brown said.
"414 West Broadway is a deal that took a long time to complete but we worked very closely with the seller and are excited to have this space on the best block of West Broadway," Mr. Brown said.
Joshua Siegelman from Winick Realty Group negotiated the deal. A spokeswoman for Winick didn't immediately respond to a request for comment. Valerie Berk, the chief executive officer of Valroge, declined to comment.
Ascot also owns a commercial condo at 43 Wooster Street between Broome and Grand Streets that was leased to Wooster Street Social Club tattoo parlor when the company purchased it for $3.5 million in July 2012. The condo spans 4,000 square feet on the ground floor and 2,700 square feet below ground. Ascot is leasing the unit to clothing store 260 Sample Sale until at least the end of the year. (Love Hate Social Club, formerly Wooster Street Social Club, moved to Stellar Management's123-127 Lafayette Street between Howard and Canal Streets in Soho, as CO reported in April 2015.)
A year prior, Ascot purchased a commercial condo (4,000 square feet at grade and 4,000 square feet below grade) from Salmon & Marshall at 131 Greene Street, directly across the street from Ascot's newly acquired 138 Greene Street, for $6.9 million. Google leases the space as has been previously reported. Mr. Brown declined to discuss the tenant.
Source: https://commercialobserver.com/2016/03/ascot-properties-nyc-betting-on-soho-with-two-commercial-condo-buys-within-as-many-weeks/#.VvkcCwcHUak.mailto
Brunner buys Nolita rental buildings from Marolda for $31M
Brooklyn developer Joseph Brunner's most recent deal took him to Manhattan, where he purchased two Nolita rental buildings for $31 million, according to property records filed with the city Monday.
Brunner closed on 55 Spring Street and 57 Spring Street last month, acquiring the buildings from Marolda Properties for $15.5 million each. The five-story buildings, located between Lafayette and Mulberry streets, house a combined 33 residential units.
The properties also include three commercial units across a combined 18,552 square feet, and feature a total of 32,754 buildable square feet. Neither Brunner nor Marolda could be reached for comment.
Brunner and partner Abe Mandel recently went into contract on a Williamsburg development site for nearly $700 per buildable square foot, as The Real Deal reported, while the city's Department of Buildings denied Brunner's permit application last week for an eight-story rental project at 1134 Fulton Street in Bedford-Stuyvesant.
Marolda, meanwhile, recently sold a three-building Lower East Side rental complex to Akelius Real Estate Management for $24 million. Marolda faced an investigation by the state's Division of Housing and Community Renewal last year for allegedly throwing tenants out of rent-controlled apartments.
See more at: http://therealdeal.com/blog/2015/07/06/brunner-buys-nolita-rental-buildings-from-marolda-for-31m/#sthash.YR3nm6Qg.dpuf
Benchmark Buys Two WV Apt. Buildings Within One Week
Benchmark Real Estate Group has picked up two apartment buildings in the West Village, Jordan Vogel, a principal at Benchmark, told Commercial Observer. The firm bought 82-84 West 12th Street for $22.8 million on Feb. 4, he said, and a week prior, 194 West 10th Street for $9.3 million. The West 10th Street sale closed on Jan. 28 and was filed with the city last Thursday.
"There's been a fight to quality," Mr. Vogel said. "[I] used to say anything prime Manhattan. Now I'd much rather be in the West Village than on the Upper East Side. We're seeking the highest rent districts."
Benchmark bought the West 12th Street building between Fifth Avenue and Avenue of the Americas from Heller Realty, Mr. Vogel said. The 25,000-square-foot elevator building is comprised of 24 one-bedroom units of about 725 square feet. Ryan Darius Salon is the lone commercial tenant in the building. The goal is to bring the six-story building up to condominium standard—and $6,500-per-month rents—so it can present a viable option for folks looking to buy at Rudin Management's Greenwich Lane.
"We know our place in the market," Mr. Vogel said. "This isn't a comp for Greenwich Lane. But, you'll have the same quality renovation and the same square footage [in the apartments] in the same exact location. You won't have the amenities, but you won't have a half-million-dollar down payment."
Benchmark is spending $250 per square foot to update the apartments and will add a roof deck, virtual doorman and laundry service.
Rosewood Realty Group's Aaron Jungreis and represented the seller in the West 12th Street deal. He declined to comment via a spokesman. Ivan Hakimian of HPNY represented the buyer. Eleas Mathios of Arch Equities represented the seller in the West 10th Street deal, and Becnhmark had no broker.
Benchmark snapped up the 11,000-square-foot walk-up building on West 10th Street between West 4th and Bleecker Streets from a real estate attorney, whom Mr. Vogel declined to identify. Following a renovation costing $150 per square foot and including upgrading the apartments, redoing the common areas, hallways and lobby as well as adding a roof deck, Mr. Vogel said his firm plans to increase the rents to $110 per foot from $55 per square foot. The company plans to turn the 350-square-foot studios into one-bedrooms.
Here's what the $10M- $20M NYC investment sales market looked like last week
Ex- Soho teddy bear factory sells for $18.7M; Castellan shells out $10M for Midtown site – See more at: http://therealdeal.com/blog/2015/03/17/heres-what-the-10m-20m-nyc-investment-sales-market-looked-like-last-week-13/#sthash.2xJ1B64a.dpuf
1.) The former home of the Original Teddy Bear Factory at 497 Broome Street in Soho traded hands for $18.7 million in a 1031 exchange. John Dee Corp. purchased the recently-renovated four-story, mixed-use building from A.M. Properties and Quality Capital. The sellers acquired the 6,700-square-foot building, located between West Broadway and Wooster streets, for $4.9 million in 2013.
2.) Uzi Ben Abraham and Yaron Jacobi's Premier Equities purchased a commercial condo in the 12-story mixed-use building at 583 Broadway for $16 million. The 4,200-square-foot unit is one of two retail units in the Soho building, which includes tenants like Under Armour and contains 23 apartments. BMH Associates is the seller.
3.) Italian manufacturer SICIS North America purchased a Bronx warehouse at 150 Bruckner Boulevard for $14 million and is planning a renovation of the two-story building. The company, through its real estate holding company, Bianca USA Real Estate, Inc., requested subsidies through the New York City Industrial Development Agency in January to help it acquire the property and invest $1.2 million in renovations. The seller, BNS Real Estate, paid $5 million for the property in 2006.
4.) A 47-unit apartment building at 855 Ocean Avenue in Brooklyn's Flatbush neighborhood sold for $13.4 million. An entity, whose president is listed as Arnold Simon, purchased the six-story residential building from Park & Coast II, LLC. The property spans 57,000 square feet and last traded for $7.6 million in 2011.
5.) In East Harlem, a mixed-use building traded for $12 million. An entity listed as 2085 Lexington LLC purchased the 36-unit building at 2085 Lexington Avenue, also known as 142-144 East 12th Street. The building's ground floor holds over 5,000 square feet of retail space across six units. Another 30,000 square feet of the building is residential. The seller is 2085 Lex Operating Corp.
6.) The Episcopal Diocese of New York sold a pair of adjacent townhouses at 324 West 108th Street for $11.7 million. The five-story Upper West Side properties are currently vacant and are poised for renovation, although the buyers, W 108 Development LLC, have yet to file alteration permits. Located between Riverside Drive and West End Avenue, the elevator buildings are just over 14,000 square feet and was delivered with an additional 3,500 square feet of air rights.
7.) The developers behind the planned 21-story residential building at 9 East 30th Street paid $10 million for the development site. Castellan Real Estate Partners, with assistance from the New York City Partnership Housing Development Fund Company, will build a 21,000-square-foot building with 19 affordable studios and one market-rate unit. Kossar + Garry Architects is designing the skinny Midtown building. Armed Import Export Corp. sold the vacant land.
(Source: ACRIS data for closed sales between 3/9 t/o 3/15, PropertyShark data) – See more at: http://therealdeal.com/blog/2015/03/17/heres-what-the-10m-20m-nyc-investment-sales-market-looked-like-last-week-13/#sthash.2xJ1B64a.dpuf
Ashkenazy, Centurion snag retail at Nolita condo for $40M
Duo buys three-level space from Richard Hadar that's home to NYPL branch, American Apparel
Ben Ashkenazy's Ashkenazy Acquisition Corporation and Ralph Tawil's Centurion Realty jointly paid $40 million for a three-level retail condominium at the base of a nine-story apartment building in Nolita, The Real Deal has learned.
The 30,000-square-foot retail component at 285 Lafayette Street — near Jersey Street and just south of Jared Kushner's Puck Building – is home to seven tenants. The New York Public Library's Mulberry Street branch occupies 16,100 square feet across three floors, under a lease deal expiring in 2021. Other tenants include cosmetics retailer Santa Maria Novella and clothier American Apparel, which is due to vacate its 7,000-square-foot space by early next year.
Matthew Marshall of Marshall Real Estate represented both the buyers and the seller, veteran developer Richard Hadar of Richard Hadar Funding.
Ashkenazy is planning a long-term hold on the retail spaces, Daniel Levy, partner at the development firm, told TRD.
Several national tenants expressed interest in American Apparel's space while the deal was in contract, Levy said. Ashkenazy and Centurion signed a contract in May. The deal closed today.
Allied Partners, led by Richard Hadar's son Eric Hadar, converted the loft building into condominiums in 1999. The nearly 118,000-square-foot structure holds 30 apartments. Character actor Saul Rubinek sold his three-bedroom home in the building over the summer, as TRD reported.
Ashkenazy and Centurion recently did a deal together in which Ashkenazy acquired two retail buildings near the Port Authority Bus Terminal in Midtown from Centurion for $40 million, according to TRD.
See more at: http://therealdeal.com/blog/2014/11/13/ashkenazy-centurion-snag-retail-at-nolita-condo-building-for-40m/#sthash.t5OjTfZd.dpuf
Great Neck firm set to spend $43M on summer retail splurge
A small retail-acquisition firm out of Great Neck, L.I.'s Persian real estate community had an active summer and is on track to spend $43 million on a handful of properties that it's betting will command top dollar by the time their leases expire.
Earlier this week, Klosed Properties inked a deal to purchase a retail condo in Soho for $7 million, as the New York Observer reported at the time, and last week the company bought a pair of properties on Fulton Street near the South Street Seaport for $15 million.
Klosed President Steven Kachanian said the firm is in contract to purchase two more Manhattan properties, and that's on top of the $13 million the company paid in June in two separate deals for a retail condo in FiDi and a mixed-use property near Times Square.
All in all, Klosed has completed 11 deals this year, including some national triple-net properties.
"We typically do around eight to 12 deals a year," said Kachanian, who is a distant relative of Zar Poperties' David Zar. "This has been a particularly good year."
At 202 Spring Street in SoHo, a Spa Belles nail salon occupies the 2,200 square foot space with a lease set to expire in 2016.
"They're paying a fraction of where the market is now," said Kachanian, who added that area rents are in the $250 to $300 per-square-foot range. "We're confident that in the next two years the market could be in the mid-to-high threes."
Klosed was repped in the off-market deal by Camelot Realty Group's David Goldoff, whose father and uncle owned the building.
At 46-50 Fulton Street, Klosed now owns a retail condo and a four-story building sitting on the street that will be bookended by the Fulton Center Mall and the revitalized South Street Seaport.
The company was represented in that off-market deal by Matt Marshall of the Marshall Real Estate brokerage, who said the largest tenant, a McDonald's restaurant covering about 5,000 feet, has a lease set to expire in 2020.
"[Klosed] won't really be able to capitalize on the value there for another five or six years," he said. "Actually, that may coincide very well with the redevelopment of the Seaport, so the timing for it is pretty good."
Back in June, the firm partnered with Namdar to buy a retail condo at the base of a 24-story office building at 80 John Street for $7 million, as well as a five-story, mixed-use building at 144 West 46th Street near Times Square. Kachanian said the current tenant, a Chinese restaurant, will vacate soon and the company is looking to bring in an Irish pub for a long-term lease for the building's 3,000 square foot retail space.
WSA Equities' John Street Retail Condo Picked up for $7M
William Achenbaum's WSA Equities today closed on the $7 million sale of a roughly 8,000-square-foot retail condominium at South Star, at 80 John Street, Commercial Observer has learned.
Klosed Properties and Namdar Realty Group bought the Financial District condo "because of the visibility, price per foot, the yield was reasonable and there is upside," said Steven Kachanian, a principal at Klosed Properties, which owns nearby properties.
The condo is occupied by UFC Gym, which has 6,500 square feet for another 10 years, and a dry cleaners, which has 1,500 until the end of the year, the latter with an option to renew at market rate. Both tenants pay below market rate rents. The property has 150 feet of wraparound frontage.
Garden City, N.Y.-based WSA converted the apartment building, at the corner of Gold Street, from rental to condo in 2006 and renamed it South Star. WSA did not immediately respond to a request for comment.
Mr. Kachanian said it was an off-market deal involving one broker, who he declined to identify.
Jacobi pays $25M for Soho retail space
The space at the base of a luxury loft development in Soho has traded for $25 million, the broker handling the transaction told The Real Deal.
Investor Yaron Jacobi nabbed the basement and first two floors of 151 Wooster, just south of Houston, in an off-market deal, according to Matthew Marshall, of Marshall Real Estate, who brokered the transaction for both seller and buyer.
The seller was Michael Namer's Alfa Development, which developed the 15 luxury units above the 15,200-square-foot retail component. The reason for the sale was likely to free up resources to focus on residential development, Marshall said. "Owning retail is not part of [Alfa's] business plan," he said.
Jacobi, an investor and sometimes-partner to billionaire real estate tycoon Ron Burkle, has made other, similar purchases in the area, such as the 13,700-square-foot condo at 57-63 Greene Street. He "saw an opportunity, probably because of [the tenants paying] under-market rent," Marshall said.
Demand for retail condos, especially in Soho and other corridors that appeal to tourists, has been on the rise of late, as The Real Deal has reported.
"Soho is a unique market in the sense that it is so confined and defined by a few block radius," Marshall added.
Cassina USA, an Italian furniture maker, occupies one ground-floor retail space and the commercial space on the second floor, Marshall said. The other retail space is occupied by Desiron, another furniture purveyor, whose lease will expire next year.